Heather Nelson (and Grace) – Executive Director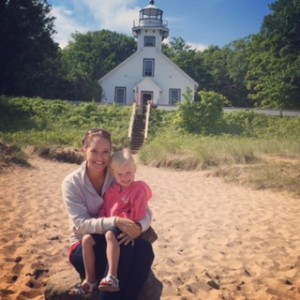 Heather (Davis) Nelson was born in Wheaton, IL.  Heather graduated from St. Elmo High School in 2001, and was accepted to the University of Illinois.  Upon graduating from U of I in 2005 with a degree in Geography and Political Science, she moved to Carpentersville, IL and was married to her husband Kyle in 2006.
Heather worked for Bossard Metrics as an account manager from 2007-2009.  She stopped working to get her teacher certification from Judson University in 2010.  After completing her certification, she worked at Howard B. Thomas Elementary School in Burlington, IL until her daughter Grace was born in 2011, and she has stayed at home and raised Grace ever since.  Heather was named the Executive Director of the Dean Ritter Foundation in 2013.
Heather's favorite vacation spot is Traverse City, MI and often dreams of late summer sunsets over Grand Traverse Bay.   She also enjoys DIY projects and watching Law and Order: Special Victim's Unit.  She loves taking time of their dog Peyton and cats Memur and #2.  She gets the greatest joy in life out of being a mother and wife.
Heather is extremely excited to be able to work with her father, Mike, on this endeavor, and to be able to aid students who are deaf and hard of hearing in their desire to continue their education.
Mike Davis – Chairman of the Board
Mike Davis was born in Salem, IL and graduated from St. Elmo high school in 1968.  In 1969, he was working for Granite City Steel Company when he was drafted by the Selective Service.  Shortly after he joined the United States Air Force.  His four years of military service included tours in Wyoming, Vietnam, and Missouri.
After his military service, he went to work for the family business (Davis Chevrolet) where he is now the owner.  In 1976, he married the late Melody Rosenthal, and they raised two children, Heather and Ed Davis.
Mike's hobbies include fishing and camping (especially with is granddaughter Grace).
Click HERE to read more about how Mike met Dean, and how the Dean Ritter Foundation came into being.